Fashion trends
Hardly any other world turns as quickly as the fashion merry-go-round. What is seen as poor taste today can be hot tomorrow - and vice versa. Trendsetters, fashion journalists, style gurus, stars, bloggers and designers worldwide show us what is in and what we better ought to stay away from. Peter Pan collar, ethnic look, animal prints or rather the little black dress? So that you don't lose track of where fashion is going, we'll search for international trends for you. The most important rule, however, is and remains this: Wear what you like!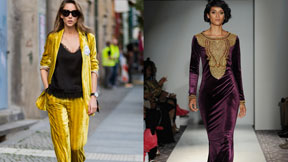 Velvet is here to stay – forever?!
If the international fashion shows are anything to go by, that's the way it looks – preferably all over. Velvet dresses, velvet skirts, velvet suits are all popular, and not just in classic colours such as black or navy, but in bright mustard and burgundy shades too. The fabric is soft, warm and comfortable and, with the right design, screams luxury and opulence, especially when the outfit is floor-length. XL-lengths are another current megatrend!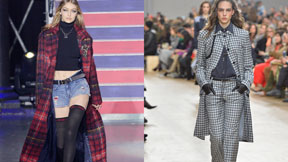 Getty Images (2)
Pretty in plaid
Checks have become a fashion evergreen. True fashionistas dress in tartan (Scottish checks) or Vichy (gingham), preferably from head to toe. Gingham, a combination of white squares with black and often blue, red or pastel shades, has long been a favourite choice for a light, summer look. Now, alongside Scottish tartan (preferably red), it enjoys a wardrobe presence all year round.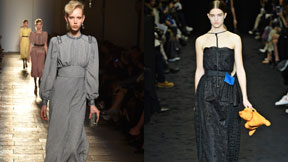 Getty Images (2)
From black to metallic
Have you heard the bold saying, "Wear black or stay naked"? It's true! Black is a key element of current fashion trends. And so is grey! Both are colours that can individually be combined with statement pieces or worn with splashes of pop-out colour, as well as monochrome outfits using a range of patterns and textures. Grey always looks well-dressed, and a grey cashmere pullover creates a wonderfully casual elegance. Sparkling looks in silver and metallics are also right on trend, and they're unbeatable when worn in combination with grey shades.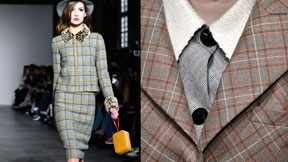 AFP/Getty Images, Gamma-Rapho via Getty Images
A weekend in the countryside
British country style is celebrating a comeback. With classic tweed suits and tartan patterns, long boots, leather buttons and cosy knitwear. Colour code: earthy tones in every shade, with cream, a little red and, of course, green. Essentially: laid-back, cool and natural.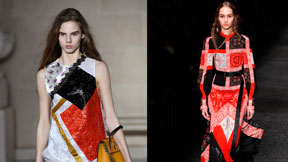 AFP/Getty Images (2)
Patchwork as art
That's truly brave: Silvery shimmering patches are combined with net fabric and knitted glitter wool to create an oversized pullover. Wildly patterned patches seem to have been thrown together at random, competing with one another. Colourful strings of pearls swing with every movement. Fake fur and enormous bows join the party too, when it comes to transforming otherwise simple dresses into outstanding and extravagant statement pieces.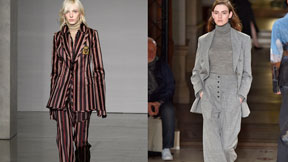 WireImage, Gamma-Rapho via Getty Images
Business as usual?
Certainly not! Trouser suits are all-rounders, making them our number one choice for the office and into the evening. They can be classic, or sometimes made of funky and colourful cord or velvet with a brave seventies look. Hands off anything that emphasises a tailored waist! That's too stressed and what's more, totally out. Boyfriend styles and the layered look are much more relaxed.