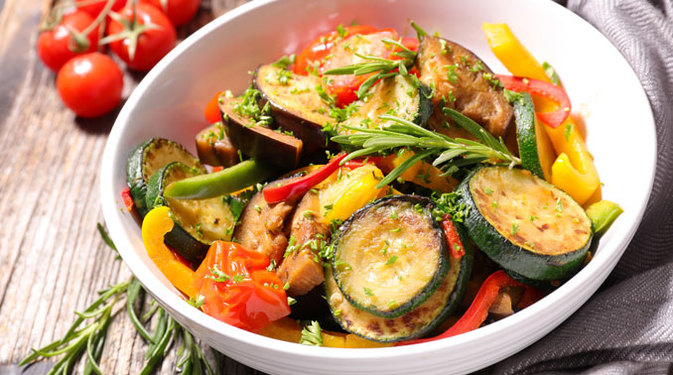 Ratatouille
This Provençal vegetable stew starts out as a quintet in the pan and finishes up as an orchestral symphony on the plate.
Until the early 20th century, ratatouille was unknown beyond the area around Nice in Provence in the south of France. It was a dish made of the leftovers that remained after cleaning vegetables (tomatoes, aubergines, courgettes, onions and garlic). The term "ratatouille" comes from the Provençal word ratatolha (rata = food; touiller = stir, mix). When cooked on a low heat with a variety of herbs (basil, lavender, marjoram, oregano, rosemary, sage and thyme), olive oil, salt and pepper, the vegetables and herbs are gradually transformed into a symphony of flavours.
It spread throughout France in the 20th century, and since World War II has been made all around the world. Although originally all kinds of vegetables would have been cooked with herbs, inventive cooks opted for browning the aubergines, peppers, courgettes and onions separately and then cooking them slowly to retain their own flavours until all the different vegetables reached the same consistency. Peppers need cooking for considerably longer than aubergines to reach the same tenderness. Only when all the vegetables are ready are they combined with skinned tomatoes, garlic and the herbs in a large pan. In all cases, it is important that the vegetables are not chopped too finely.
Text: Rainer Meier
You can find our recipe for ratatouille here. It can be prepared on the hob or in the steam oven:
Ingredients (for 4 portions):
3 tbsp. oil, 1 onion (diced), 1 clove of garlic (finely diced), 1 each of red, green and yellow peppers, 3 tomatoes, 400 g courgettes, 1 aubergine (approx. 300 g), 1 tsp dried rosemary leaves, 1 tsp dried basil, salt, pepper, chopped chives
Preparation:
Wash the vegetables, remove the pith and seeds and chop into bite-sized pieces. Quarter the tomatoes, cut the courgettes into ½ cm thick slices, halve the aubergine and cut this into ½ cm slices too.
Preheat a roasting pan on the highest shelf, heat the oil, sweat the onions, add the garlic, vegetables, rosemary leaves and basil and stew them together.
Cover and cook on the hob or in the steam oven until done.
Season with salt and pepper and serve sprinkled with chopped chives.
Appliance Settings:
Steam Oven: 15 min at 100° C
Hob: 15-20 min on lowest setting